Beschreibung
You participate in meetings held in English but you don't feel at ease? Do you sometimes avoid contributing in a meeting to avoid mistakes? Do you feel a bit shy at times when it comes to sharing your opinion in English? You're not alone!
Let us create a warm atmosphere in this course where you can develop the ability to express your thoughts and ideas in a group. Practising meeting situations based on authentic examples in a "protected area" with your trainer and co-learners will help you feel more comfortable and confident and will be fun at the same time!
Topics:
Training English fluency related to meetings

 

Identifying types of personalities at meetings and understanding its impact

 

Giving opinions, agreeing and disagreeing, interrupting in a polite manner

 

Discussing an agenda and practising signposting between topics

 

Grammar related to making suggestions  – why "should" and "must" don't belong in meetings

 

Learning and practising key phrases used in all sequences of a meeting

 

Idioms commonly used in English meetings

 

Politeness, directness and diplomacy

 

Intercultural aspects to raise mutual understanding

Learning from participants' best practices

 
Optional:  
Video and telephone conference particularities 

 

Hosting meetings, e.g. facilitating and moderating 

 
 The focus of the course will be chosen according to the participants' needs. 
Language Level:
You should have a B1 or B2 level of English. Einstufungstest/Placement Test
Trainer: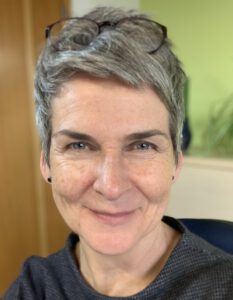 Sheena Weinlein
DELTA (Diploma in Teaching English to Speakers of Other Languages), MVHS accredited by the University of Cambridge
Intercultural Business Trainer/Moderator (IBT/M)®, assist International HR accredited by the Deutsche Gesellschaft für Interkulturelle Trainingsqualität e.V. (DGIKT)
Certificate in International Business English Training (Cert IBET), The Consultants-E accredited by Trinity College, London
Certificate in Teaching Languages with Technology (Cert ICT), The Consultants-E accredited by Trinity College, London
Certificate of Advanced Neurolanguage Coaching, Efficient Language Coaching® accredited by Continuing Coaching Education International Coach Federation (ICF CCE)
Diploma in Administrative Management, Belfast Institute of FE accredited by the Institute of Administrative Management, London

IKS Business English Trainer 

since

 2010